Welcome to this week's Private Markets Express, a digest of small pieces of private equity news and knowledge gathered for your reading pleasure.
Last week, news surfaced that Uber is to merge its Russian business with local competitor Yandex, a Russian Google-like company. Uber launched in Russia in 2014 and the rivalry with Yandex sparked a price war. According to BBC, Yandex will contribute $100 million and own about 59% of the merged company and Uber will invest $225 million and have a 37% stake in the combined firm. Uber sought to cast the deal as a way to makes its finances sustainable and build on its growth. Together, they will deliver about 35 million rides each month. The merger is still subject to approval from regulators. If approved, the merger is expected to close by the end of the year.

Meet the hottest companies in cloud computing for 2017! For the second time, Forbes released its Cloud 100 List. It recognizes the best and brightest companies ranked 1-100 based on operating metrics such as revenue and funding. We want to take a moment to highlight the top company, Stripe, and two other companies we have previously offered investors through our platform – Dropbox and DocuSign, both of which finished in the top 5.
#1 – Stripe, the online payments company earned the number one spot. Founded in 2010 and valued at $9.2 billion, Stripe helps hundreds of thousands of businesses handle sales and other transactions on their sites. Some customers include Facebook, Lyft, Target, and Unicef.
#2 – Dropbox, the file sharing, and collaboration company came in at number two. Founded in 2007 and valued at $10 billion, it is rumored to be eyeing an IPO in upcoming months.
#4 – DocuSign, the digital signatures platform came in at fourth. Founded in 2003, more than 200 million people currently use DocuSign to send and sign agreements online.
It is worth noting that all of these companies are headquartered in San Francisco, California. For the full list and more info on the companies, click here.
This week Elon Musk, CEO of the revolutionary company SpaceX, posted a graph on Twitter that compares the percentage of launches different parties invested in space have achieved worldwide. The tweet was captioned: "Other organizations should also develop reusable orbital rockets. If an airplane company had reusable airplanes, buying single use airplanes would seem crazy." See that tweet here.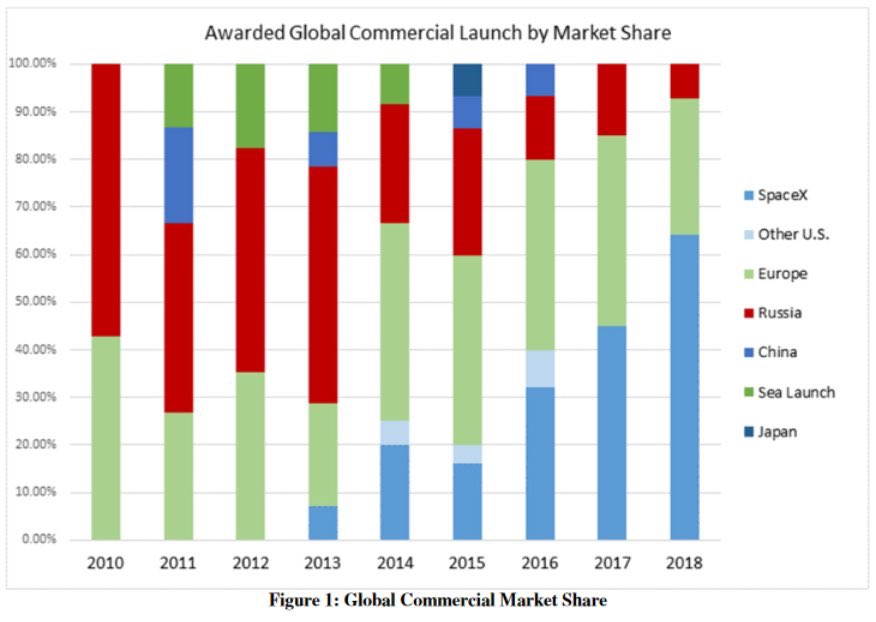 As you can see from the graph, SpaceX is leading the market and Musk attributes SpaceX's exponential rise to their innovative tactic of reusing rockets. It is worth noting that SpaceX has pulled off this impressive feat while being entirely privately funded. SpaceX has grown from about a 5% market cap in 2013 to 45% in 2017, an 800% increase over 4 years!
Elon Musk also repurchased the domain x.com recently. According to Quartz Media, X.com was the domain name associated with the payment service that Musk founded in 1999; it remained with PayPal after the companies merged and Musk lost it when he left the company. As for what he has planned for the intriguing domain, your guess is as good as ours. Musk suggested it was for sentimental value but we like to think that there could be another exciting venture in the works? Check out the website x.com and take your best guess what Elon is up to! (Spoiler! Shouldn't take you long to browse through everything!)
Thank you for joining us!
Want access to private companies? Visit InvestX to see past, and current offerings.
Want to stay updated on Private Equity News? Follow us on Twitter @InvestX_Capital, or look us up on LinkedIn, and Facebook.